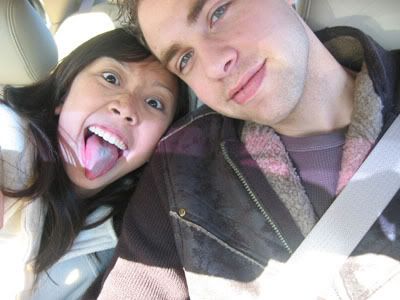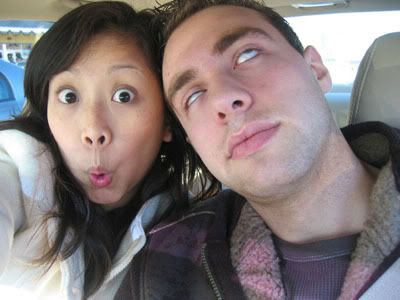 guess who came to town!!! better than Santa Claus!! its my alexo!! and he camped over at my place for 3 nights!!! more pictures of our williamsburg adventures to come... this is us on a Yankee Candle high.. the candle factory has wayyy too many scents.
seriously, i never know wines have smell. what more "merlot" n "carbernet sauvignon" n "pinot noir".. .goodness. im already having a hard enough time differentiating the tastes.. now you tell me there are different scents? *sigh* i guess i was never born a high-class socialite! anywhos, i really love the winter wonderland scent (reminds me of my europe tour last year) and holiday home (a mixture of cranberries, spice and pumpkins..) very christmassy..but i honestly have been investing too much of my hard-earned pennies on candles.

my kitchen smells of blueberry muffin, the boys room/computer room is gingerbread cinnamon, bedroom is pine, living room is vanilla or pumpkin.. depending on who's home and my desk is scented with a "carribean holiday" plug in.. smells like a pina colada! and the most ridiculous one is my bathroom. Its a mixture of my buttermilk candy candle and sugar cone-scented bath foam. i think its dumb to have buttermilk candy smell in bathroom. quite inappropriate. oh!! and because our house is so scented, i figured the car deserved to have a scent so i chose ocean breeze and guess what!!! it smells like the SIngaporean cabs! so familiar that it reminds me of home! *grins*

and the worst and nastiest smell was some lily, petunia looking flower. i swear i got a allergies or sinus attack after i smelt it..

and if anyone is interested, i learnt that the best way to test a candle scent is to spell the cover of the pot of candle. not the candle itself!!!

but scents were for free!! so we went around on a smelling-spree!!! and had a lot of fun but came out all stuffy-nosed. =(