oops i thought that was the last of my easter pictures!!
Not until Judy realized that in her Easter basket, there was a egg painting set (which i totally forgot that i put it in) so we boiled eggs and did a post-easter painting sesh, coupled with Zhing's newest food tasting : hashbrown casserole and girls night in !!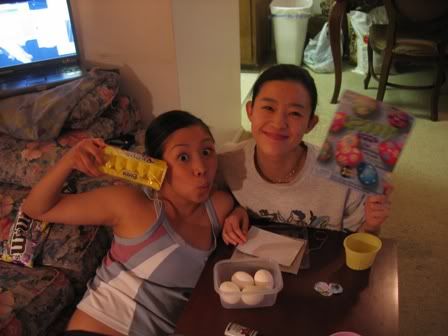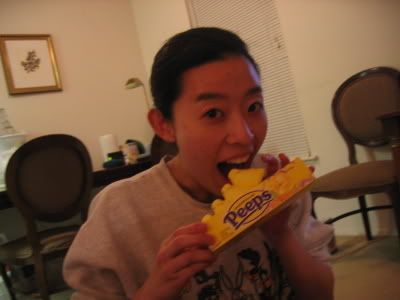 peeps are so cute! but not my kinda candy. (recall Dick saying once peeps tastes like air.. how does air taste, girl??) Judy caught snapshots of our painted eggs. The ones that teresa did were real pretty with glitters and patterns but me and Judy were too busy talking and watching TV we screwed up majorly. Eggs were cracked, colors all mismatched and we practically covered the whole egg with stickers just to conceal the boo-boos we made!!
and i really am not a fan of my own hashbrown casserole cos it just tastes like chips and mash potatoes (and im no big potato fan..) but they like it a lot and its super easy to make.. so i guess this is my "pot-luck" dish in future!
i'm super excited today! we are all going to housekeeping to help out cos they are having a heavy checkout day!! and i've decided to get myself a crock pot so i can make soups & mexican chilli & pot roasts for lazy cooking days..