after all the travelling for work this week, decided i needed to spend the weekend at home, sorting out laundry and cleaning the house for the party on thursday!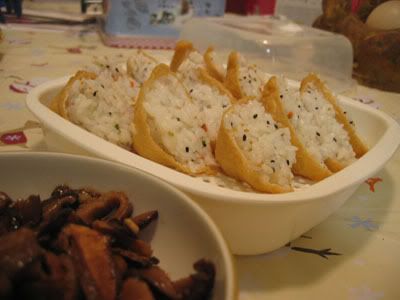 this was my super simple dinner:: i boiled rice (used the sticky korean sort), add vinegar & salt, black sesame, white sesame, finely chopped carrots and stuffed it into pre-made toufoo skin!!! woohhooo!! and eat with soy sauce! heavenly!
and since dinner was such a flaming success, i was inspired! (haha. im the ONLY person that has the ability to inspires herself.) so i decided to make
Buttery Chocolate Cracker!
was trying to figure out the recipe before i feed my guests on Thursday!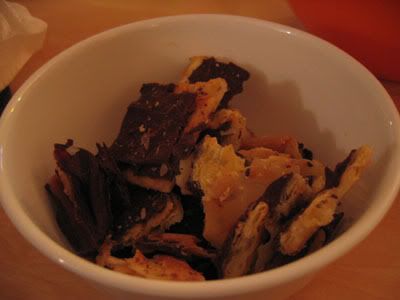 Ingredients:
(1) sleeve of Saltine crackers
(2) sticks of butter
(1/2) cup of sugar
(12 oz) chocolate chip
a) line cookie pan with aluminium foil (makes easy cleaning)
b) place the saltine crackers on pan
c) melt (2) sticks of butter with sugar in a pan. Stirring constantly
d) pour over cracker and bake at (350deg.) for 7 mins.
e) remove and pour choc chip over mixture. sit till melted and spread chocolate evenly with spatula
f) refrigerate till it hardens & serve


its SUPER addictive. and extremely yummy. but its all fats!!! oh and if you have not figured out by now, my 30-mins dinner plan ended up as a 2 hour affair!

on a separate note: HAPPY BIRTHDAY MUMMY!!! I LOVE YOU!!!