for those that have seen me in person, i am totally NOT model-material in every sense.. so was quite shocked to see this on NTU website when i was surfing to look for my lecturer's email addy! (i must justify. i wasn't purposely searching for my face!) but look! im on the internet! oh and dick told me im on NTU alumni donation card too!! cool!!!
excuse me, while i bask in my moment ok!?
point to note: above all other physical attributes why i would never be America's next top model (or any country's next top model period.) i have this undeniable huge goofy grin! i just do not know how else to take picture!!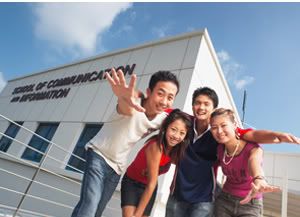 damn.. no wonder they didn't pick me to be in this cool, look farawy shot... =)
i kinda miss NTU.