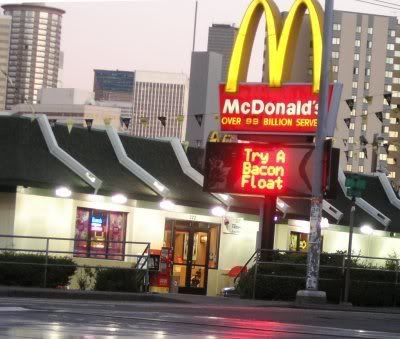 today someone asked why do they bother to write "over 99 billion served" as their catch phrase. its not like we think "yeah! 99 billion other people have munched here. i shall do the same!" silence. everyone was trying to think of a logical answer.
and that same someone said "maybe the cows will turn up at the door and say (in a cow voice..) "hey'all i saw the sign and figured my odds are quite slim. so i guess i better turn myself in. only request. could i be a happy meal?"
i thought that was funny. maybe my humour is really waning. because i was still giggling about it about 5 hours later.
on the note of bad humor.. what in the WORLD a bacon float??? *eww*