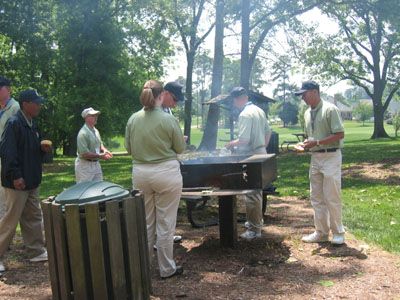 my co-workers posing before we started concessions tent & grill-out lunch with our US army volunteers. they were teaching me all the american slangs and telling me stories about us army. i respect that they are so passionate and loyal to the forces and the people really respect their armed personnel.
there are always special discounts for them and they will salute to the soldiers in passing.
and on the grill, is jackie who is an appretice now but will be a chef by summer!!! she is so cute and tiny but so tough and kick-ass at the same time. she is only 21, has been a cook for 3 years and is 1/4 asian!! she is da bomb!! =)
Michelob Ultra Open (golf tournament which i have been working on this week) is so fun but tiring at the same time. im working 13 days straight without off and my longest day was 14 hours.. eyes all red and teary at the end of the night.
gotta run a bathe now my poor aching feet is killing me and i have to do laundry again tonight..