--> I've been to several dinner parties but it was never held at my place tho my apartment is the most well stocked. so when room-mate was called for last minute duties, i took the chance to invite the WHOLE gang of my friends over and made them shepard pies, and chix wings with hot sauce and stir-fried oyster sauce veg! feels nice to have people filling out this empty space with laughter, loud uninhibited laughter and lotsa love.. hehe.. and at the end of the day with greasy hair, crumply fingers and loadsa washing to do, i was still grinning like a cheshire cat.
me and teresa! (hello cheekbones!! yyayyy...)
--> Thurday night with workies at Randall's and WIlliamsburg Lanes. Maybe it was the comfort and familiarity of company, maybe it was the beer.. but i bowled well! (ie. not too much gutter activity) and i think this after work team-bonding time is really nice! especially when at the strike of five, your boss announces that we have 1 hour to go home and grab something comfy before meeting at corner grill or afterwork drinks!.. my first and certainly not my last!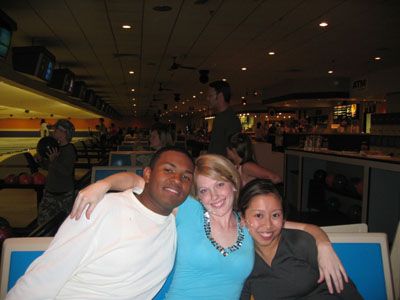 --> The work team! also fondly refered to in the resort as "Fluff and Stuff"!! Excuse the slouchiness, bad hair, greasy face and tired smiles, but this was at the end of a 12 hour set up (a 3 hour sneak break to go for the rides) and loadsa hard work.. check out the glowly blue thing in the background. that was part of an ice bar!! along with 7 other ice sculture. its really cool watching the ice sculpture assemble their stuff. and it costed us close to $5000! real expensive if you ask me.. for a few blocks of frozen H2O!! and you should have seen my crest-fallen face when after setup, the client said "urmm i kinda imagine this horse to be like 8 inches behind the floral murals.. " *faints*
---> zhing's not-so-green fingers... everything living plant that passes through close proximity of me dies in a few days.. these are the victims for the past 2 weeks.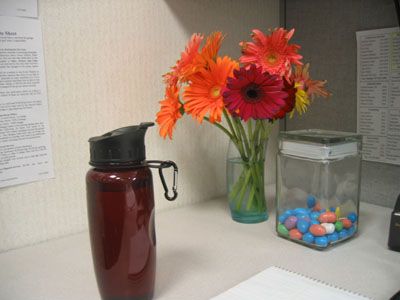 + one wilting cactus (!!!) right next to my desk..=(
what is it that you put inside? i tried advil, plant food and plain water... nothing works!!