had a rough day at work today... the moment i stepped into the office, it was huddle time (daily meeting for department) and we broke down the event run down for the next few weeks to come. works starting to flow in (more like gush in) with the golf tournament around the corner, busch garden's official opening day and easter weekend... its exciting but we will all be streetched hours to cover the events... starting from this saturday, i have to be at work from 6am till 7:30pm. sounds mad but i can't wait!! *boink boink*
oh! i have to train the easter bunny to do the bunny hop cos all he wants to do is groove and do his sexy little breakdance routine.. im the bunny's little helper, we have to go for breakfast, join the kids in pony rides, paint easter eggs, deliver easter baskets in a golf cart (meaning i getta drive woohoo!!) and join in an easter egg hunt! never knew easter is such a big affair here!! im real excited..

and minutes after the meeting, didn't' even have time to read my emails, i rushed out for a tour and scavenger hunt at Colonial Williamsburg, a tourist attraction of the town. staff and crew in there wear colonial clothes and role-play the early settlers of USA. that was pretty cool an experience and the horse drawn carriages had those page boys. (don't really know what they are really called) learnt that in colonial times, you pick your man by the shape and size of their calfs cos the rich guys would learn dance so their calves were shapely and toned! and learnt the true meaning of "putting your best foot forward" and how to do a gentlemanly bow. oh! and another yardstick for a marriable man : size of his thumb. the slimmer, the better cos in the past, you can beat up your wife only with a stick the size or smaller than your thumb.. hence the saying: "rule of the thumb"!! interesting huh? but the weather was bit too fickle for me, and so now im feeling a bitty sicky..

event only ended at 7:30 and by 8pm, i was snuggled in bed without dinner. thought i could sleep till morning to go to gym class but now im wide awake, baking my newest comfort food: angel cake from the box... sigh.. guess gym will have to wait till after work..
my wednesday perk-me-up from noel!! a candy jarful of robin eggs *yums* these treats only come during easter.. they are HUGE whoppers, candy coated chocolate with caramel center.. and kate taught me the right way to eat them.
instructions from kate (works especially well on the blue colored ones)
step 1: lick the candy on outside
step 2: rub it on the whole of your tongue
step 3: smear it generously over your lips
step 4: pop candy in mouth and try to give the nearest person a candy colored kissy...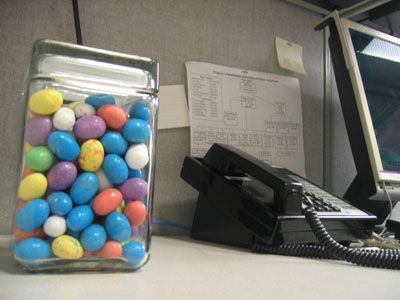 *lurvies to you all* *pink candy kisses*