woah! firstly, i do apologize to the people who don't wake up every morning and bounce awake to see which wedding craft i've been working on. i know its excessive but i've been greatly inspired after a long lull. im sure i'll hit a wedding plateau soon! plus daniel, my friends and even my domestic helper in cambodia is completely over my wedding craziness and can't wait for me to shut up. so i guess this is only outlet...
a few days ago, we decided that im going to "toss the bouquet" but not THE bouquet as in my bouquet. and i was very keen to work on removing things off my to-do not add to my list, so i consulted my all-time favorite wedding planning tool - the internet for some answers!
so elegant and neat.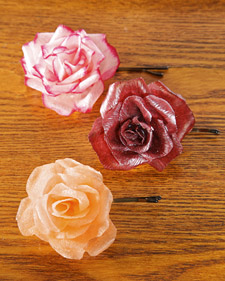 roses! doesn't it look so so real?!
followed
this tutorial
and made myself a flower. not so impressive..
i grabbed a few sheets of kleenex and made some mini-poms!! it was fluffy and perfectly shaped!
*** its brand new unused tissue paper fresh from the box/roll. its not unsanitary at all! :)
pulled together a little mixed bouquet of crepe paper, toilet paper and the wire daniel uses to fix our bicycles!!
then smoothened out the pokey wire bits with a length of recycled tee-shirt, strips of lace, a few crystal and viola!! a throw-away bouquet! its better than a regular flower bouquet cos its super soft (think toilet paper soft) and it keeps forever. I'm also tucking a surprise message in there for whoever catches it. :) i guess you'll have to catch it to find out!! :)
i think i like it enough to wanna just use this as my own bouquet.
breakdown of cost:
crepe paper - $1.40
wire - $0.50
toilet paper - N.A.
other bits and bobs - N.A.
Total cost for my throwaway bouquet - $1.90!! :)
score! :) and for being such a diligent and prudent wife/wedding planner. *ahem* daniel is taking all the savings and splurging on a pre-wedding-moon to NYC! yayyyy!!!! my favorite place on earth :) we're leaving at the end of the month for 3 weeks of shopping and pure silly fun and will pop down to Virginia for a wedding and to celebrate July 4th with my pals, fireworks and all! :)
boy! i can't wait!!