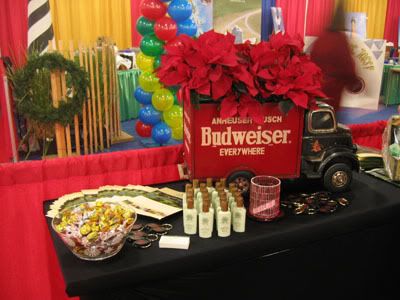 the theme was "Carnival" but cos of the company image, we didn't do anything carnival-like. so while the rest of the whole hall were filled with clowns, stuffed toys, balloons and games, we were in our classic tradeshow booth style. while the rest of the sales people were in jumpers, splashy colors, me and kelly were in our formal suits. but we had a fantastic spot the first booth you hit when you enter and made very good contacts! =)
i did noticed some very odd behavior though... there were a bunch of people who came in without any interest in the booth or display. all they wanted was to wheel their trolley bags around and snag the freebies and candy. i guess that doesn't only happen in singapore! :)
but we brought a whole new definition to killer heels and if there is anything i learnt.... NEVER EVER wear high heels (no matter how sexy they make your calves look... ) during trade shows.
kelly brought me to P.F. Chang's for dinner, an upscale chinese bistro for dinner. dinner was fantastic and delicious. but what cracked me up was the huge "Tang dynasty" stone horse outside the restaurant really over the top and way out of scale! tried explaining the history of tang dynasty and realized that i did not remember much from the omni-max theatre show i watched and the story really made the chinese sound crazy and bizarre. oops...
toufu, mushroom & crunchy waterchestnut wrapped in lettuce!! super duper yummy!
the bosslady is a toufoo convert now and takes back all 8 months of jokes about eating weird stuff.
the next day, we were on our 3 hour drive home! bleah...