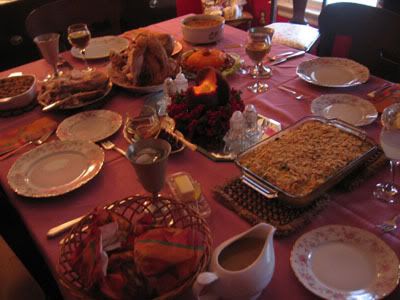 Our thanksgiving feast prepared by Mommy Thompson in Mechanicsville, Richmond! we had a HUGE turkey and gravy, sweet potato casserole, brocolli casserole, cornbread stuffing, carrot & orange jello, cranberry jello, warm bread rolls and mash potatoes and just when we thought yayy.. we did pretty well and didn't over stuff, she brought out chocolate pie and keylime bars..... *slurps* and we polished everything off with warm mint tea and curled up by the fireplace watching Macy's Thankgiving Parade and planning out Black Friday shopping list!!
Daddy Thompson doing us the honor to carve the turkey! we had so much leftovers it was not funny. but Rachel Ray (kinda like the Yen Can Cook equivalent in US) introduced a real amazing leftover casserole recipe!
from the bottom of the casserole dish:
1) stuffings
2) cranberry sauce
3) turkey
4) gravy
5) mashed potato
and bake it till the mashed potato browns! and viola! makes a brand new dish!!!
a very unflattering picture of myself but noel looks like a princess so i had to post it!
so that was my first thanksgiving in pictures!! =) somehow, it didn't feel quite as big a deal as expected. im guessing its cos im not american and the historical significance of this american celebrated holiday is nothing more than a reason to gather and feast!! but anywhos, i'll choose a holiday over a workday anyday anytime! =p