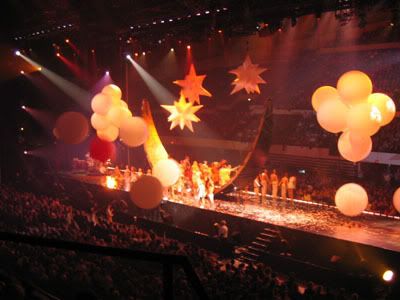 in JC, under the cover of researching for TSD, i watched quite a fair bit of theatre and dance but ever since i've started travelling, watching shows have become a treat and a rare occurance. so when "Delirium" was coming to town, i jumped at the opportunity and made everyone watch with me!! we bought the cheapest tickets($29.but the view was perfect. we could see the entire stage and because we were right smack in front of the screen, we could also focus on the teeny-tiny details!!

i sat on the edge of my seat the whole night like a child in a candy store! the stunts were breath-taking, stage picture was awesome and very well-crafted and the acoustics was fantastic! couldn't have asked for more! it was indeed food-for-the-artistic-soul... and the men who did the balancing acts in silver boy-shorts were so hunkadory and their abs were sooo well-sculpted. had to gracefully mop my drool after their segment! and we had so much fun because Christine, who worked in the hotel they were staying in, was giving us a detailed account of their luxurious trailer & gossipy juicy in-sights!

there was a super cool part when the various stage screen started filling up with water which heralded the underwater scene! (hard to describe...) but it was so cool! the sound effects and all made it feel like we were all contained in a glass bottle!! and the mermaid's huge long dress with springy tendrils was so amazing and out of the world! it was like I'm living right out of my dream!

and when i went home, i had a dream that i was one of the ladies wearing a wig of bouncy tendrils with pink and yellow and green with a skimpy little brazillian Mardi Gras costume and when i started catapulting from the lift, my wig went out of control and i was frantically trying to flip it away from my eyes! and i couldn't see. and i was flounching and panicky and worried at being yelled at.. hehe very odd and random dream!!!
me and the girlies!
my sweetheart, Marina!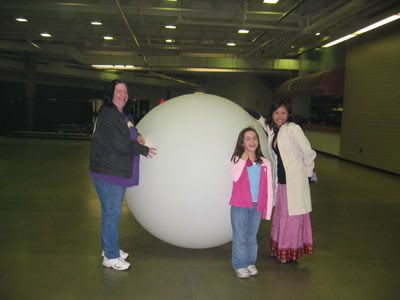 see how big the balloon was! how this lady managed to sneak it out without security noticing, how she is going to drive it home and what she is going to do to it... is one HUGE mistery!