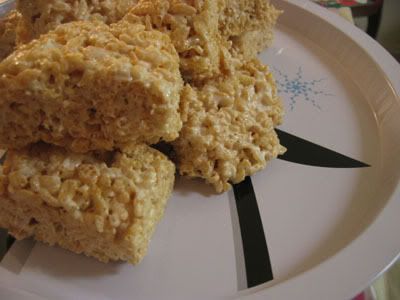 3-day intensive resort holiday decor is over so i figured i needed something to restore my "nice girl" image after three days of bossiness. *sigh* certainly not an easy task to keep my perfectionist streak under check and not hurt feelings.. there were so many moments the inner beast was screaming "goodness! that bow is awful" yet i had to go "everyone did a phenomenal job!!" and go back at night to straighten it all up.
anyway, to thank them for their hardwork, i made rice krispies treats to share! =) not too bad for first attempt! except i was so dumb and forgot to use wax paper under the krispy treats so i had to sit and peel foil off each chunk.
anywhos, these are the best!!! they're sweet, sticky and crunchy!! i lurve the texture! its like eating gum but you don't have to spit it out!! woohoo! nice!!