my latest craze !! sandwiches from The Cheese Shop!!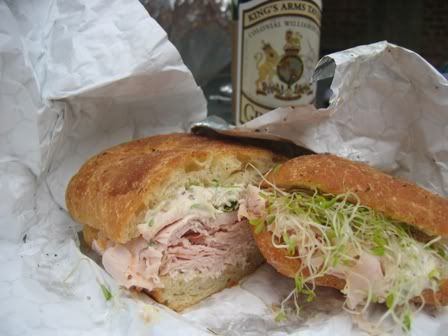 I think what sets this apart from any other regular sandwich joint is the house dressing, fresh foccacia bread and the ambience!! it's sitting right in the middle of Merchant's Square in Colonial Williamsburg in a gourmet cheese and wine shop so you can grab a sandwich, glass of wine and sit by the paved road and watch families, kids dressed in colonial costume and couples stroll by and bask in the sun and after lunch wander around the novelty stores that had the most magical selection of candy, fun knick knacks, colonial costumes, pretty and very very unaffordable clothes and browse through books in barnes and nobles.. and suddenly it felt like the whole world came to a stand still!! it was a glorious & magical afternoon spent!! if only every sunday is spent like this!!!
I love it how off days here really meant that i did not have to worry about time.
no disturbing phonecall making me report to dance in 30 mins sharp with make up & costumes and could you also grab soandso's costume so he can meet us at the location... *phew* as much as i miss dancing, that aspect of dance, i do not miss... yet.