"To my friends on the 4th floor and my Culinary Gods:
I just got a awesome new sparkly grill as a gift and it now needs to be broken in and get dirty. I am having a cookout at my place Monday night with old fashion Burgers, Dogs, Chips and Dip, Soda if I may say so, our wonderful Anheuser-Busch Beer, and of course, a Big ole Watermelon. I am trying to start around 6PM and since I am a Chef….and my friends are Chefs, we will be going late into the night.
Now don't think I have a nice home or anything, just a poor boys apartment with no extra lawn chairs or anything like that. If you want to come by, remember there is a volleyball court next to my house, I have the ball, just need someone to bring an air-pump!! Please call me at 757-***-**** to let me know.
This is not an RSVP, it is simply so I can get enough food. If you don't call, I can't promise you can eat! And lastly, I am inviting YOU, so don't bring anything, I hate that kind of stuff.
Oh Yeah: Bring a friend, husband, wife, even little babies (I love them)"

isn't it awesome to receive such great mail at work? i have always been a fan of spontaneity but this was my first "real" grill-out , a-la-american style! *grins* and i was all bouncy and excited for the whole day after receiving this email!!

and the grill-out was a whole lot of fun people, calories & grease, cheap burgers, 5 pint of icecream!! and a whole lot of unhealthy stuff.. it was another no-diet, no-gym, no-waistline day.. but i had great fun and we even had sparklers into the night, dvds, huge dog, free flow of beers, totally adorable blonde little gal.. what else can you ask for a monday night!!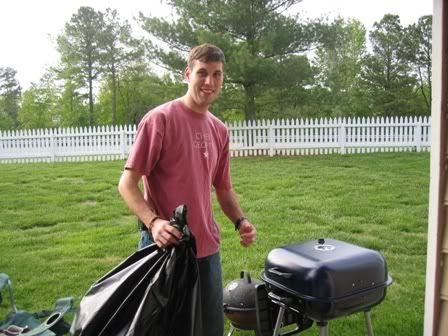 my roomies starting out early with the prep work and beer.. this is merely 20 mins after work ended!! felt like a weekend already!
chilling out with Judy & Kortezzy in front of the telly cos my two friends were too afraid of the cold to stand in the back porch!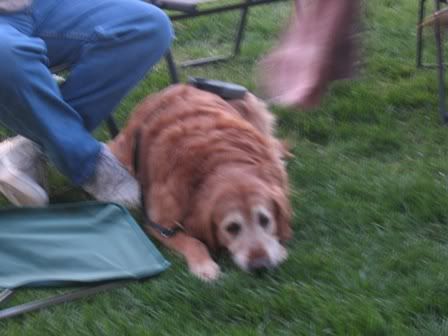 Awww.. check out the expression on Jasper's face when he was tied to the lawn chair cos he was found trying to eat hotdog...& Keira caught red handed picking at the rainbow sprinkles.. she liked loads of 'em piled onto her ice-cream but she didn't like the taste of it...


awwwwww.. im suffering from tuesday blues!! *pout*