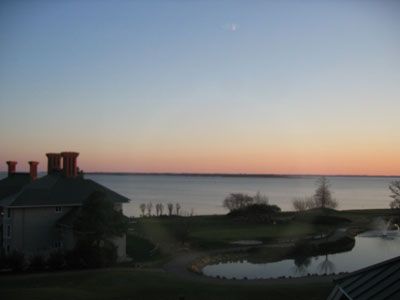 was in the office till 9:30pm last night cos of a corporate event in the ballroom and witnessed this breathtaking view from the office window. In the background is James River and foreground is part of a golf course.. i reckon we have a nicer view than some resort guests who are set away from the river bank, some facing the golf course, some facing the woods and a stream.. and pictures of last night event, Olympic themed (as you can very well tell..) had to keep within a budget and follow a very traditional setup, nothing fancy cos it was their formal night! tonight's the fun night with casino theme!! im excited!!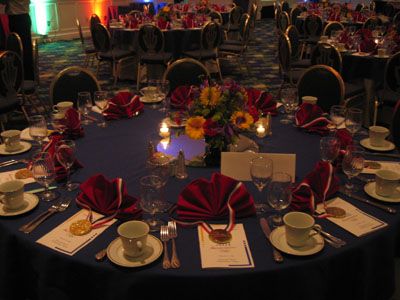 can't wait for the weddings to start in June, the set-ups are more exciting with the reception, dance floor, fireworks and themed events!!! but bridezillas can be such a pain-in-the-ass to handle. they call you every other minute once a "hey! i was just having a thought while shopping that..." comes to mind. *roll eyes* good grief lady.. how many time do you wanna change the shade of grey on your lamour napkins?? and urm.. did i mention that your wedding is in November so wanna chill out a little?? but was thinking.. it were me, i would certainly be more kan-cheong.. so i better not speak too soon! *grins*
and while im off in virginia being an apprentice to the linen-fairy (my boss who know each and every linen and color and how it would look with each other), the boy back home was trying to describe his candle-lit dinner with an ole pal.. in his own words, the dinner was too romantic for them and each table had a "candle with a container"... methinks he was trying to say tea-light... haha..