thought i was going to spend yesterday at home alone cos we found out the williamsburg bus doesn't run on sunday (!!!) so when noel called to ask "watchaduinbabe", i was pleasantly surprised and really glad...
we first grabbed paints on the way back and painted her bed jet black! it was really pretty and the whole room smelt of paint. somehow black does add a tinge of class to second hand furniture! and we made angel cake (yes more baking again...) it was fabulous. it reminded me of the white sugared triangular sticky cakes you get in guei shops i used to like as a child.. yummy and best part is, its fat-free!! *jumps in exhilaration* so yes, angel cake is my newest commfort food...
we watched TV, ran thru her pictures and she told me about her childhood and college days. she is a real typical american girl. blonde, grew up cheerleading, like macaroni and cheese, sorority sisters, proms and all those stuff we watch in movies and read in sweet valley high.. but best part is, she's my friend and i was instantly thankful that instead of being alone in my apartment trying to cook something that reminds me of home, i was with her in her couch with iced tea and cool-aid and angel cake and corn muffins, all so american style.
and there's just something about being in a home as compared to the small apartment i house my belongings... i remembered being home-sick in switzerland when euphie & yixin (bless them! ) brought me to their boss's, Thomas, home. i didn't know him at all nor his wife but i was real happy at the end of the night not cos of the free meal but just being in the comforts of a home does warm the heart. same feeling when we settled in my cousin's place in london. no 5* hotel could match up to the comforts and company we enjoyed there!!
and for dinner, me and noel made breakfast for dinner. weird but it was fun. cos we both like breakfast ood so much and figured its such a waste we never have time to sit down to have brekkie together cos we are always grabbing starbucks, rushing on the way to work or packing each other little bagels and waffles... it was going to be a simple eggs & sausage meal till her boyfriend, seth (who is the hotel's chef) ended work early and decided to check out wat we gals were up to.. and you can't just make eggs for a chef can you.. so we made the following:
1) hashbrown casserole (amazingly easy to make..) the browned toppings are crushed conflakes and it tastes like you eating lays potato chips cos its potato and sour cream. bit too heavy for my liking but i thinks it a fantastic dish to pot luck!
2) scrambled eggs
3) sausages
4) wholewheat pancakes with maple syrup
*burps* hehe.. very unhealthy menu actually... but the end result was yummy. even seth (who has amazingly high standards) was impressed!! and after we were done with our american portioned brekkie, we were comparing tummies figuring how many months old we looked.. hehe... and to work off the calories, what better to do than to go grocery shopping for the next week of supplies since walmart is open 24 hours and its HUGE!!! to find each other, we played "Marco Polo" so one lost sheep had to go down the isles shouting "marco, marco,... MARCO!!" and another lost sheep will respond.. poor seth he was totally embarrassed by our little game.. but we were reunited and they sent me home all happy and full!! *beams* it was a great evening...
here's a picture of the amazing couple!!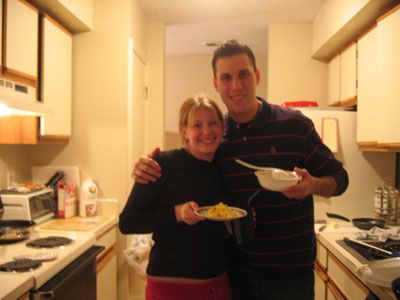 thanks for spending sunday with me!! it made we real happy!!