finally, after a week-long hiatus, im back to posting my belated holiday pictures (paris, switz & barce will have to wait till i go back home!!)
post-boxing-day steamboat party with my cousin's friends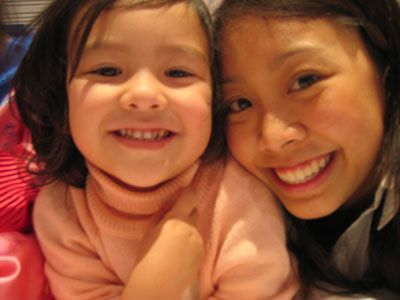 really cute little girl called tiana but we call her ting ting. she speaks canonese and is motie-motie (french for half half) cute eh? and pondering in the background is tania (tan tan) who retorts ever so loudly that she is upset she got her dad's hairy gorilla arms and she is a whole of 11 years old!!!
that's zew trying to cue her on how to act out her keyword. he wasn't too patient with this little one cos she couldn't speak much but really very very sweet little thing!!! when she doesn't know something, she will give her huge impish grin that will totally melt our heart. when she got bored playing monopoly, she started lying on the board to distract us.. aiyor.. my doggie at home used to do that when im reading papers. hehe.. even when she can't read, she got a turn playing charades. big mistake cos she wasn't too good at it. (which explains why zew would roll his eyes everytime she wants to join in..) she ends up shouting out the word aloud in the end...check out her cute belly. sooo cute!
and yummmeroos dim sum breakfast! many types of bao and chee cheong fun!!