nicole's letter to santa with plateful of yummies & carrot for rudolph!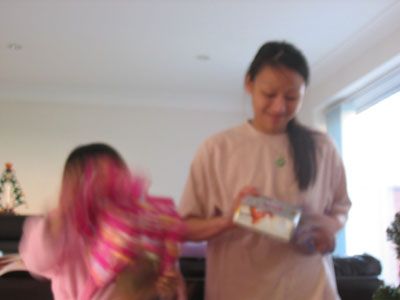 We were woken up by Dom's loud voice because if we didn't get up, he wouldn't be allowed to unwrap his massive heap of present! That's Domi hidden under the tree looking for more presents to rip apart!! Brought me right back to childhood when we would all gather under the tree xmas morning at home and tear open presents and dad , welding his trust videocamera, would take videos of everything!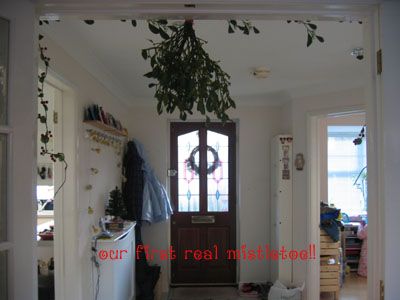 Xmas lunch & dinner was fantastic!!! we had the full works of it, turkey with stuffings, bread sauce, cranberry sauce, yorkshire pudding, gammon, greens (my fav parsnips!!) chips, loadsa chocs, yummeroos.. all prepared by my lovely cousin, ming ming! (right) amazing how she looks so young when she is a mother of two!! After dinner,a-la-typical-chinese-style entertainment, Keni whipped out his borrowed kara-ok set and they crooned throughout the night till midnight.. even managed to teach Domi how to sing YMCA with the full actions.
despite the spread, these two bottomless pits still had tummy space to cram in more crisps & snacks non-stop throughout the night! amazing!!!
The next morning, we had cheese and turket sandwich for lunch cos no one woke up early enough for breakfast and we hit the shops for the hugest xmas sale ever!!
*grins*
i swear! shopping is the funnest cardio exercise i indulge in!